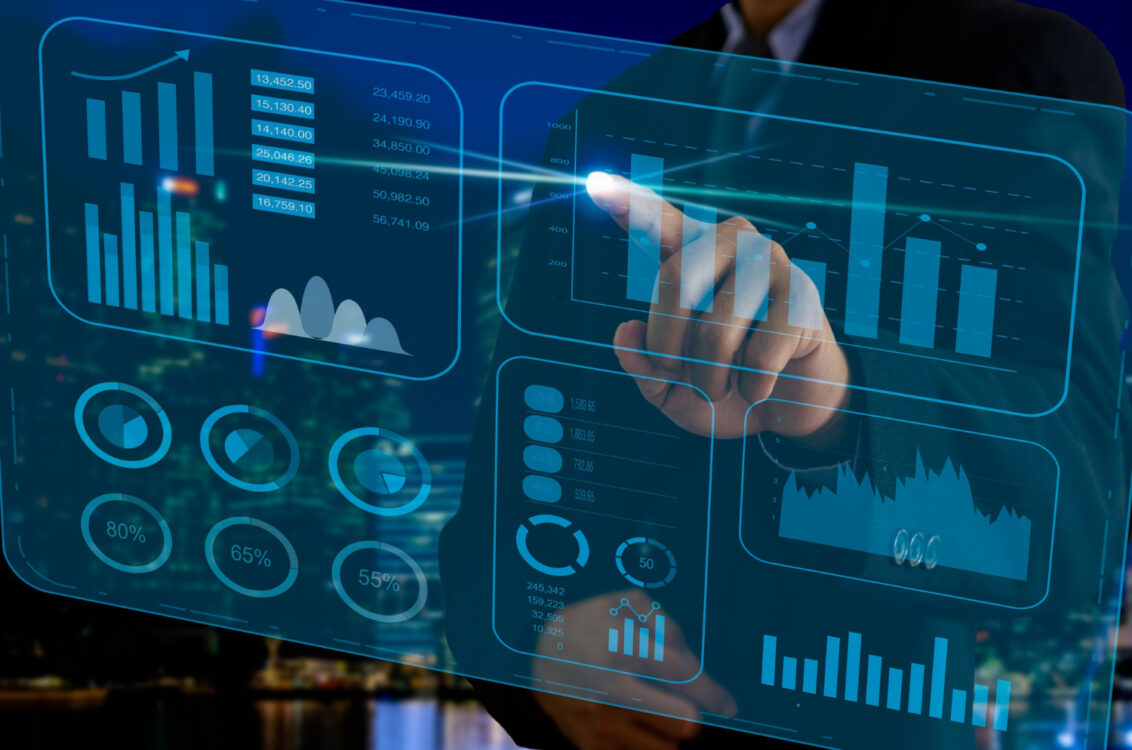 The modern world is a world of digital data that is literally everywhere. The opportunity to "see" and interpret them has changed our lives in many ways. Digital information allows companies to improve their processes, initiatives, and implement innovations using analytics.
With modern volumes of indicators, facts and figures, with a huge number of relationships, understanding which information to work with first of all may seem a difficult task. A dashboard with metrics for business comes to the rescue. It seems that this is one of the best "idiots" in the field of business analytics.
In recent years, these analytical control panels have been used and implemented in many industries, from healthcare, HR and marketing to sales, logistics and IT, and everywhere users are convinced of their benefits for reducing costs and improving company performance indicators. They help to monitor and analyze:
financial and production indicators;
effectiveness of advertising;
traffic and conversion of websites, attendance of offline establishments — and much more.
What is a dashboard
The easiest way to compare this IT solution with the dashboard of a modern car. It displays the indicators necessary for safe and efficient management, about everything that is inside and outside the car, from the gas tank to the neighboring fence, so as not to drive into it when parking.
Modern analytical systems reflect the current state of important indicators in any work area.
The program collects and analyzes a huge amount of metrics and information from various channels. In the era of paper reports, entire departments could fight over them, but now beautiful and understandable graphs, charts and data tables are available to ordinary users. For your own purposes, you can create a convenient dashboard online and configure it yourself using interactive functions.
Irwas can create a dashboard for your business, which will be a tool for managing all information from a single access point. With their help, managers and employees track the company's KPIs and include analytics to make effective decisions based on available data.
Types of dashboards
In any industry, regardless of the scope and scale, the result is important, as well as clear actions that can be taken when a problem is discovered. In a world where accurate information runs everything, dashboards are changing the idea of a successful business analysis strategy. No matter how hard you try, if you do not have the opportunity to convey the necessary data to the right employees or customers, the success of your business may be at risk.
For long-term and cost-effective results, it is very important to choose the right control panel. First of all, to do this, you need to answer the following questions:
1. What tasks does the dashboard solve?
2. What is its main purpose?
3. Is it analytical or operational?
The analytical dashboard helps to set targets based on the analysis of historical numerical indicators. It employs complex models that analysts/experts are working on. The operational reviews the current performance based on the KPI. They help to understand in real time whether the indicators meet the set goal.
If you look deeper, you can distinguish 4 subtypes, each with its own requirements for the level of generalization, analytical capabilities and user interface:
Strategic — focused on long-term strategies and high-level metrics.
Operational — shows short time frames and operational processes.
Analytical — contains a huge amount of information created by analysts.
Tactical — a dashboard of a mid-level manager for tracking indicators.
Data on the dashboard: what and from where
It's up to you to decide what information about your company to visualize using this tool. The sales dashboard will be different from the dashboard with metrics for site visits. The main thing is to ensure the availability of all necessary structural elements. You need to identify the sources; there are a lot of them, from Excel spreadsheets to huge information systems that you need to consider, but they all need to work for your tasks. The most popular sources are Excel, CSV, XML, JSON; accounting systems — ERP, CRM, 1C; databases — MySQL, PostgreSQL, Oracle and others.
You may want to add sources outside of your area of work when setting up. This is possible, the main thing is to understand what tasks the dashboard should solve, for example, for sales and marketing departments it can become a single workspace, because these areas work together.
Another important point is the quality of digital information. They must be clean, accurate, consistent, complete and comply with your company's regulations.
Differences between dashboard and report and infographics
The dashboard is not the only way to visualize the entire volume of necessary information, however, it presents them to the user after analysis, grouping, comparison, etc., which it conducts independently — this is its main difference from other tools. It is much broader and more dynamic than tables, reports and infographics, although it can include them.
By implementing such a solution, changes can be tracked in any segments, both in time and at different levels or areas of activity. The old Excel and PowerPoint, like other applications for working with static spreadsheets and presentations, remain important tools, but dashboards have a special value, with them new opportunities come to business:
Flexibility in decision-making. An interactive dashboard allows users to answer important questions by accessing the most up-to-date data about the current state of the company. In addition, information can be viewed from different points of view: zoom in and out, detail time intervals, filter by different parameters, show or hide information that is irrelevant at the moment. This opens up the most complete picture.
No redundant reports. Just one tool with the most modern interactive features. A short period of adjustment and adaptation, and instead of a lot of static PowerPoint slides, you have a responsive interactive system in front of you. You can completely abandon spreadsheets and presentations. And it's easy to do this with special services and programs for creating and designing dashboards.
Saving resources of the IT department. Users can independently conduct special analysis, and the IT department can focus on other urgent or valuable tasks.
Speed. Without a doubt, this is the most important characteristic for any company trying to stay afloat in our digital age. In traditional spreadsheets or presentations, data is inserted once and updated manually. But now there is no need for "manual labor". The picture can change in real time — you get information in one click. Efficiency. The number of variables to collect and analyze is constantly growing, and traditional tools are not able to cope with them. The appearance of a bi dashboard brings independent work with important business indicators to a completely different level of productivity.
Advantages of the dashboard
Can be customized
One of the biggest advantages over traditional spreadsheets is the flexibility and inexhaustible customization possibilities. Creating custom dashboards for business allows different people in the company to work with the same data. The report will look different for a sales representative, a sales manager, a line manager, and a company owner.
Interactivity
Imagine a situation when the head of the sales department wants to study more deeply the information about a promising new employee. If he turns to the dashboard program, he can see the same thing as the sales manager in a few clicks and draw his conclusions about the quality of work. Conversely, if a sales manager wants to understand how his functions fit into the work of the company as a whole, he can "zoom in" and see higher-level data.
Real-time monitoring
You can, for example, see how the phone-calling campaign for the upcoming product launch is going. If a week after the start of the campaign there are no necessary results on the marketing dashboard, you can step in and quickly switch to online advertising, mailing lists or somehow change the strategy.
All data in one place
This is the main difference from the traditional approach with a huge number of spreadsheets, software and databases, from social networks to CRM systems. Click! And you have everything you need to make decisions.
Intuitive
Let's be honest: it's easier for most people to understand a graph than a long, tedious Excel spreadsheet with only numbers. Dashboards are available to everyone.
Uniting
When the whole team looks at the same set of figures and reports, they perceive the task in its entirety. Besides, there are no discrepancies — "and I have an old version of the presentation"! And that's why everyone understands the forecasts, the future goals are clear, and, most importantly, the amount of effort to achieve them is clear. And the importance of internal connections of team members for their achievement becomes clearly visible.
Promoting concentration on the goal
With the proper use of an interactive tool, you always know which metrics are important, because they are displayed on the screen. Dashboards really help to focus on what is valuable.
Help in multitasking mode
Thanks to the ability to view ordered, perceptible information in one space, you can simultaneously work with different indicators, which allows you to complete projects faster with a high level of success and accuracy.
Predict trends
Working simultaneously with information from the past, real-time data and trends, your activity gets a panoramic and the clearest overview.
Irwas CRM will show complete information about the effectiveness of your advertising in a single interface. You will be able to quickly assess the situation through advertising channels, their dependence on the day of the week and time of day, the effectiveness of working with applications and their quality. Situational awareness influences prompt decision-making: which channels should be developed and which ones should be abandoned, which advertising campaigns should be optimized, and how to increase the number of calls and sales as a result.
Rules for developing an effective dashboard
In order for such a cool tool to be effective, make a checklist of future effectiveness during development and implementation.
Clearly define the goal. It will determine the design.
Take only the essentials. Everything should be subordinated to a single plan.
Consider the ratio of infographic elements. Avoid decorative elements that do not transmit data.
Round up the numbers. Excessive meticulousness can prevent you from seeing important trends.
Pay attention to the most effective visualization. A good visualization is a clear visualization.
Group similar interrelated metrics. It will be easier to find them this way.
Be consistent. Using similar visualizations and layouts makes comparison easier.
By changing the size and location on the screen, you can show the hierarchy of information. The viewer must understand what is most important.
Give the numbers context. Help to understand when the indicator will be good, and when it will be bad, when it will be normal, and when it will be unusual.
Think about what language your audience speaks. Let the designations be clear and understandable for them.
Remember that dashboard services work for people. The rules can be broken if the involvement increases.
Constantly develop and adapt dashboards. This is the key action to keep working in the direction you need.
How to work with dashboards
In order to benefit from the advantages, you need to try not to make some mistakes.
Do not refer to complex technical language or professional jargon. Remember about accessibility — this is one of the advantages of our tool. Every employee in the company should be able to use it in the interests of the cause. The concepts can be explained simply and concisely.
Don't focus only on the current state of affairs. For maximum impact, it is necessary to work with KPIs and widgets that reveal a balanced combination of historical, current and predictive digital information. Strive to get the big picture.
Don't create static control panels. Allow yourself to get away from the usual Excel spreadsheets. Make sure that you do not forget to include dynamic elements in the project: diagrams, graphs, projections. This way you will be able to interact with the numbers and gain a deeper understanding of the workflows.
Avoid incongruous or irrelevant color combinations. The vast majority of people can perceive color, but do not perceive shades. Therefore, it is necessary to avoid overlapping similar colors, for example, red and pink. The main color rule "how to make dashboards" is to choose 2, maximum 3 colors for construction, and work only with them.
The dashboard program will solve its tasks even more efficiently if you use additional functions. For example, you can add animation, include elements of training and tips for users, pop-up information when you hover the cursor over its elements.